Spam with .cx-domains could hang jwSpamSpy (2004-06-07)
Problem: Spam emails advertising domains registered on the Christmas Islands (ccTLD .cx) can hang jwSpamSpy.
Explanation: The domain registry for .cx domains does not have a working WHOIS-server. When jwSpamSpy tries to query the server, it can get stuck.
Symptoms: No new mails delivered. jwSpamSpy manual mode dialog will not come up. In Windows 2000 or XP, if you use Ctrl+Alt-Del to bring up the task manager, you will see "jwSpamSpy.exe" in the list of processes indefinitely.
Workaround/Fix: If jwSpamSpy gets stuck, use Ctrl+Alt-Del, then "T" to invoke the Task Manager. Click the "Processes" tab. Click on "jwSpamSpy.exe" in the list of processes, then "End Process", confirm "Yes". Browse to the jwSpamSpy application folder, usually C:\Program Files\JoeWein\SpamSpy. Open the bl folder. Create a new text file in it (right mouse click, "New", "Text document") and name it "whois-hosts.txt". Open it and add the following line to it:
cx;null
The latest build, jwSpamSpy 1.00.040607 (June 7, 2004) fixed this problem by no longer querying a whois-server for .cx domains and by better handling time-outs from failed whois-queries.

jwSpamSpy shows statistics of filter results (2004-06-01)
The "About jwSpamSpy" dialog now shows how many mails have been checked and what percentage was spam, non-spam or viruses: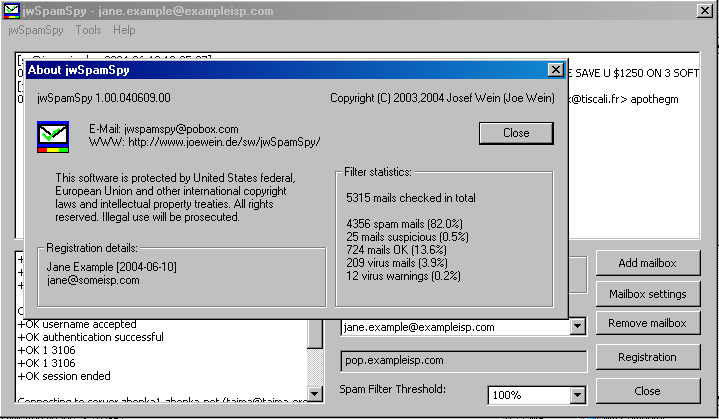 Ad-aware prevents jwSpamSpy from installing correctly (2004-05-28)
Problem:Ad-aware 6, a spyware detector by Lavasoft, can prevent jwSpamSpy from installing correctly as it prevents our install program from making the necessary changes to the Windows registry.
Symptom: When you start your computer, the jwSpamspy icon does not appear in the system tray and your email application can not check the local POP mailboxes until you manually launch jwSpamStartup.exe from the jwSpamSpy application folder, usuall C:\Program Files\JoeWein\SpamSpy.
Solution: Turn off Ad-aware before installing jwSpamSpy. You may reenable it once you've completed the jwSpamSpy setup. Should you wish to uninstall jwSpamSpy for any reason, you will also need to temporarily disable Ad-aware.

---
Links:
jwSpamSpy - spam and virus filter for POP3 mailboxes
ReadMe notes for jwSpamSpy
Frequently Asked Questions (FAQ) for jwSpamSpy